This page has been approved with an official seal!

Reason: A most viewed page on Tigeradon Wikia!
This page is on unique recipes that can be made at home. Click here for the hacks.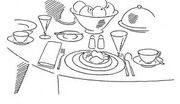 Trash breakfast
Edit
When looking for a quick & easy way to have breakfast outdoors, the fellows at Love the outdoors have you covered.
1 bag shredded hash browns
6 eggs
1 lb sausage or ham, cooked
1 chopped medium onion
2 cups shredded sharp cheese
seasoning salt and pepper
Butter
peppers (optional)
Take an aluminum foil cooking bag and spray with Pam. Sprinkle with seasoning salt and put some butter in the foil bag. Open the hash browns. Beat the eggs and chop the onions and peppers. Pour all ingredients into the bag of hash browns. Mix by squeezing the bag. Then pour the mixture into the foil cooking bag and spread out. Add more seasoning salt and pepper and a bit more butter on top of the hash brown mixture. Place the aluminum cooking bag on a preheated grill (medium heat) and turn the bag every five minutes. The bag will start to puff and you can open it to check for doneness.
Servings: 6 Preparation time: 30 minutes
Cooking an egg with an orange
Edit
Cut an orange in half. Remove the pulp. Try not to tear the peal. Crack an egg open and put into orange peel. Set peel filled with egg onto a bed of coals. The moisture from the orange peel will cook the egg. Add salt & pepper.
Hot packetsEdit
Wrap just about anything in heavy-duty aluminum foil—veggies, hamburger meat, thinly-sliced potatoes—and stick them directly on hot embers.
Extreme pigouts
Edit
Vermonster:20 scoops of ice cream, four bananas, four ladles of hot fudge, 10 scoops of walnuts, three chocolate chip cookies, one fudge brownie, two scoops of your favorite toppings and an obscene amount of whipped cream—all served in the Vermonster bucket, totalling 14000 calories, 500 fat grams & some serious brain freeze!
Quadruple bypass burger: 4 half pound patties, a whole tomato, half of an onion, lard coated buns & 8 thick slices of cheese, totaling 8000 calories & a lot of weight gain!
Fat Darrel: chicken fingers, mozzerella sticks, maranara, lettuce, tomatoes & french fries.
Big scicilian: 2o lb. dough, 1 1/2 lb. sauce, up to 30 toppings & 12 lb. mozzerella, + $200, a huge enough door, 24 hours, huge hunger, 4 strong men to make it, giant custom pizza oven, giant custom pizza box, & a flatbed truck.
Beer belly buster: 62 lb. beef, 5 lb. cheese, 7 lb. toppings & plenty of calories.
Jack n grill breakfast burrito: 12 eggs, 15 oz. chilli & 7 pounds.
Jack n grill enchiladas: 5 tortillas, 10 oz. beef, cheese, onion & a generous amount of guacamole.
Texas challenge: Giant Doughnut equals 6 Voodoo dougnuts in size. If you can eat this doughut in 80 seconds or less...You get your money back.
DOUBLE PEANUT BUTTER PAISLEY BROWNIES
Edit
This gluttonous recipe is created by the lovely fellow who made the awesome website known as 7 Deadly Sins. It is a huge recipe that will more than likely satisfy your hunger!
1/2 cup (1 stick) butter or margarine, softened
1/4 cup Creamy Peanut Butter
1 cup granulated sugar
1 cup packed light brown sugar
3 eggs
1 teaspoon vanilla extract
2 cups all-purpose flour
2 teaspoons baking powder
1/4 teaspoon salt
1-2/3 cups (10-oz. pkg.) Peanut Butter Chips
1/2 cup Hershey's Syrup

Heat oven to 350F. Grease 13x9x2-inch baking pan. In large bowl, beat butter and peanut butter. Add sugar and brown sugar; beat well. Add eggs, one at a time, beating well after each addition. Blend in vanilla. Stir together flour, baking powder and salt; mix into peanut butter mixture, blending well. Stir in peanut butter chips. Spread half of batter into prepared pan; spoon syrup over top. Carefully spread with remaining batter; swirl with metal spatula or knife for marbled effect. Bake 35 to 45 minutes or until lightly browned. Cool completely in pan on wire rack. Cut into squares. About 36 brownies.
Fried ice cream
Edit
Believe it or not, even ice cream can be deep fried. If you want to know how, why not ask Howcast?
Fried butter
Edit
If you want to add several dozen pounds to your weight, Howcast has the recipe for deep frying butter. Just remember to get a workout afterwards.
Starfish might no be the first thing to come to your menu, but it does provide an exotic taste if you're adventurous. Good thing Howcast has a recipe on cooking this spiny sea creature.
Ice shot glassEdit
Jello shotsEdit
A package of Jell-O or generic flavored gelatin mix
c. Boiling water
c. Vodka, or the alcohol of your choice
Individual containers
Toothpicks
Cut-up fruit

Step 1: Pour the package of Jell-O into a bowl, add a cup of boiling water, and stir until completely dissolved—about three minutes.
Step 2: Stir in a cup of cold vodka, or the chilled alcohol of your choice. Tip: Mix in chopped pieces of fruit, if you like.
Step 3: Pour the mixture into individual containers, like small paper cups, shot glasses, or plastic martini glasses. Lightly coat the containers with cooking spray beforehand and the shots won't stick.
Tip: Lots of websites offer gelatin shot molds for every occasion, from little football helmets for Super Bowl Sunday shooters to eyeballs for Halloween shots.
Step 4: Serve! Have toothpicks on hand in case people need help loosening the shot from its container.
Fact: The world's largest Jell-O mold was made from 7,700 gallons of Jell-O in Brisbane, Australia, in 1981.
Bag of ice creamEdit
Two resealable plastic bags, one gal.-sized and one qt.-sized
1/2 c. reduced-fat or whole milk
1 1/2 to 2 tbsp. of sugar
1/2 tsp. of vanilla extract or 1 tbsp. of cocoa powder
2 trays of ice cubes
6 tbsp. salt
Waterproof winter gloves
Chocolate or butterscotch chips
Flavored syrups
Flavoring extracts

Step 1: Put the milk and sugar in the quart-sized bag and seal it. For vanilla ice cream, add vanilla extract; for chocolate ice cream, add cocoa powder. Throw in a quarter of a cup of chocolate or butterscotch chips if you like. Tip: Experiment with other varieties by using ½ to 1 tsp. of flavored syrups like strawberry or caramel or extracts like lemon or almond.
Step 2: Put the ice and the salt in the gallon-sized bag.
Step 3: Put the smaller bag inside the bigger bag and seal it.
Step 4: Shake the larger bag vigorously for seven to 10 minutes. Tip: Wear winter gloves while you shake; the bag is cold!
Step 5: Remove the small bag, which now contains ice cream. Snip a hole in the corner of the bag and squeeze it into a dish. Makes one serving.
Fact: In the 1920s, immigrants arriving on Ellis Island were served vanilla ice cream as part of their "Welcome to America" meal.
Mother's day hat cakeEdit
If it's Mother's day and you want to show mom your appreciation, try presenting your mother with this cake.
Father's day tie cakeEdit
Tired of giving your dad ties for father's day. Try giving him this instead.
Candy sushiEdit
What do you get if you made sushi out of candy? This recipe answers that question.
Whole stuffed camel
Edit
This sure is an odd recipe brought to us by Food.com. It'll also feed a crowd if anybody tries it.
Birds on toast
Edit
Pick & draw the birds carefully. Salt & dredge with flour & roast over a quick fire for 10–15 seconds. Serve on toast with butter & pepper. You can put each one on butter dipped oyster & in bread crumbs before roasting or broiling.
Mashed banana ice cream
Edit
1 large peeled banana
1/2 cup whipping cream
1/3 cup milk
2 TBSP honey
2 12 TSP chocolate syrup

In a bowl, smash the banana to a pulp. Squish it in a 1/2 cup container & eat the leftover pulp.
Stir in everything else.
Cover & glop in the freezer. Lick the spoon
Set a timer for 3 hours.
After 3 hours, check to see if it needs stirring. If the edges are too hard, smush it up a bit. Refreeze. Check another hour & if needed, smush again. It is ready when it looks & tastes redi.
The process takes 4 hours, just don't freeze for too long.
Strange salad
Edit
Leek
Garlic
Onion
Green onion
Chives
Parsley
Mint
Sage
Watercress
Fennel
Edible flowers

Peel, wash & tear up the ingredients listed above(using only a little of each). Add lots of lettuce & spinach. Toss in olive oil. Add a dash of vinegar & salt.
Turducken
Edit
This strange recipe is a classic among some groups. The steps for making it can be found here.
Cookie cake pie
Edit
This combination of several tasty deserts is brought to you by Serious Eats.
Cherpumple
Edit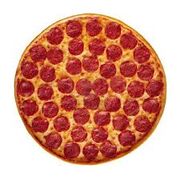 The creator of this combined desert ifs none other than Charles Phoenix, when he noticed that his family often took one slice of each desert that was made for the holidays.
Recipe listings
Edit
Fictional recipe listings
Edit
One appliance recipe listings
Edit
One restaurant recipe listings
Edit
One product recipe listings
Edit
Ecto-cooler
Edit
Remember Ecto-cooler? Well its back!(you just have to make it yourself and this site shows you how it's done.)
Yet another dish that combines 3 deserts into 1,this recipe is perfect for if you trouble deciding.
Smores nachos
Edit
Who would've thought that s'mores would make a great substitute for nachos? If you want to make these, Betty Crocker has you covered.
Skittles vodka
Edit
This recipe is one of the more interesting ones on this list. It involves infusing the flavors of Skittles into vodka to form a sweet drink. Three ways of making this strange drink can be found on WikiHow.
Scorpion soupEdit
This recipe is perfect for anyone whose brave enough to eat scorpions. Just don't eat this if you are allergic to shellfish.
Blueberry muffin oranges
Edit
6 whole Oranges
1 box Blueberry Muffin Mix, 18 Ounce Box
¾ cups Milk
¼ cups Vegetable Oil
2 whole Large Eggs

Cut oranges in half around the equator. Keep the orange halves intact and carefully scoop out the orange flesh and reserve the flesh for another use. Keep the orange peel halves intact.
Mix remaining ingredients together.
Fill one half of an orange peel with batter. Put the empty half of orange peel on top. Wrap the orange with three layers of heavy duty aluminum foil. Repeat with the remaining orange peel halves and muffin batter.
Throw the aluminum foil covered oranges in a hot camp fire!
Turn every minute or so, and cook for about 5 or 6 minutes.
Muffins will "steam" inside the orange peel and the orange peel will insulate the muffin from the fire.
Pull one out of the fire (carefully), open up the foil and check to see if a muffin is done. If not: Throw it back into fire! If so: remove all of the muffins from the fire.
Open and eat muffins out of the center of orange peel with a spoon.
Quesadilla smores
Edit
flour tortillas
semi-sweet chocolate chips
mini marshmallows
butter, softened
cinnamon-sugar

Butter one side of each tortilla.
Place one tortilla, butter side down, on a medium hot frying pan or griddle. Sprinkle lightly with chocolate chips and mini marshmallows. Cover with second tortilla, butter side up.
Allow tortilla to cook until lightly browned, then flip.
Sprinkle with cinnamon sugar and cook until filling is melted and bottom tortilla is browned.
Remove to a cutting board and cut into wedges with a pizza cutter.
Enjoy!
The Elvis
Edit
This sandwich is the trademark breakfast for rock n roll legend Elvis Presley, commonly known as "The King". The sandwich is filled with peanut butter, bacon, and bananas. Fans of Elvis Presley will enjoy this sandwich as much as he did. The recipe can be found on All Recipes, one of the best websites for getting recipes.
Popcorn cake
Edit
This recipe has a unique twist because it combines the salty taste of popcorn with the sweet taste of sugary substances. The format of this recipe comes from Activity TV, although I don't know where it went.
1/2 cup un-popped plain popcorn
dash of salt, optional
4 cups miniature marshmallows
1/2 cup margarine
2/3 cup candy-coated milk chocolate candies
medium pot
spoon
13x9x2 inch nonstick or 2-quart oblong pan
nonstick cooking spray

Pop the popcorn according to the package directions.
Add salt if desired.
In a medium pot, melt the marshmallows and margarine over low heat, stirring constantly, until smooth.
Combine the candy-coated milk chocolate candies with the popcorn.
Remove the marshmallow mixture from the heat, and pour over the popcorn and candies.
Mix gently.
Spoon the mixture into a 13 x 9 x 2-inch non-stick pan or a 2-quart oblong pan coated with non-stick cooking spray.
Refrigerate until the mixture until it hardens, so it's easier to cut. You can cut these into squares…just like a piece of cake…yum!
Foody pranksEdit
Prepare chocolate-covered garlic cloves and pass them off as chocolate-covered peanuts.
Make caramel onions instead of caramel apples. Insert a popsicle stick and add a few nuts on top.
Sew extra chicken legs on a whole chicken before serving.
Put salt in someone's water; then sit back and watch their face.
Stuff raisins into a toothpaste tube and watch people's reaction when they squeeze the tube.
Switch the bags in your family's cereal boxes for a breakfast surprise.
Add a few drops of purple or blue food coloring to someone's milk and serve it with a cookie.
This recipe came from an infamous email hoax about a women who was swindled out of $250.00 after offering to purchase the cookie recipe from Neiman Marcus. The Neiman Marcus recipe was posted on the Neiman Marcus website itself in response to the legend.
Roy RodgersEdit
Roy Rodgers is one of the most famous cowboys of all time. This non-alcoholic drink will that was named after him will give you a taste of the west. The recipe for this drink comes from howcast.
Shirley TempleEdit
Shirley Temple is one of the most famous child actresses in history. This mocktail (non-alcoholic cocktail) that bares her name will make any child smile.
Mike Tyson's punch/Mr.Dreams punch
Edit
2 cups strawberry kool-aid
2 cups raspberry kool-aid
2 cups ginger ale
1 box frozen strawberries
Makes 12 4-oz servings

Mix both flavors of kool-aid & the ginger ale.
Add the strawberries.
Chill for at least 30 minutes before serving.
Candy burger
Edit
These sweet burgers were made by somebody on the Recipes Galore website.
Candy pizza
Edit
This dish is the brainchild of Holly Gregg, who would make it for her kids. If you want to make one for yourself, it is recommended that you have someway to compensate for the massive amount of sugar content that this pizza has.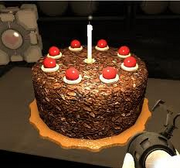 Skinny &!%chEdit
This drink is said to be a healthy mix of vodka and diet coke. The most surprising thing about it, however, is its name.
Hobo coffee
Edit
Grab a filter & press it into the glass. Secure it with a rubber band. Pour the powder coffee & slowly pour the boiling water through the filter.